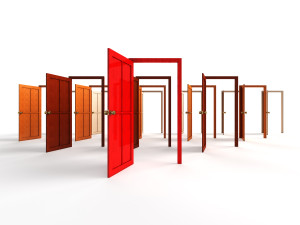 Amy Opens Doors LLC
We Do The Hard Work Of Getting Your Foot In The Door
We work with businesses to…
Develop New Business – We help turn your prospects into new clients by making connections on your behalf…
♦ Set Appointments – We do the cold calling for you from your list… to deliver face-to-face introductory meetings with key new business prospects.
♦ Follow up & Qualify Leads – We contact leads after a trade show or networking/industry event and identify only those who meet your criteria. We can also call/qualify leads of people who downloaded white papers from  your website etc.
♦ Touch Base – We connect with former clients and customers to rekindle interest in hiring you or buying from your company again.
♦ Prospect Updates – We research your old lists and update them with new contact information.
How we make it work for you
Using your list of prime prospects we use a combination of select cold calling and email follow-up strategies to effectively open the door. 
This frees you and your staff to concentrate on the important task of running your business.
Why is this strategy so successful?
We consult with your business to gain a general knowledge of the company and your market.
We then develop and you approve "talking points." Our professionals apply these points using the 'Amy Opens Doors' contact style.

The success of this strategy is demonstrated by the proven track record of appointment setting with new and desirable companies where previous prospecting efforts have failed.
Who is our ideal client?
Our ideal client can be a small or large business. New Business for our clients is the objective.
Small businesses gain the advantage of an experienced professional calling on their behalf, and a focused sales effort not usually achievable with limited staff.

Large businesses gain the benefit of an adjunct to their sales team where a fresh approach will often open the door for a sales associate to meet with a previously resistant prospect.
Let us introduce you to your ideal clients…
For more about Amy Rubinstein, President and Owner of Amy Opens Doors LLC,  click here. For our Testimonials page, click here.
Ask about the Amy Opens Doors program focused on non-profits